Galaxy S23 Ultra premium screen protector easy-install box, easy to install, support for fingerprint, bubble & dust-free, case-friendly, 2 pack HD clear / privacy screen protector.
Make sure your screen is always protected with the S23 Ultra Screen Protector Film. This incredible film is designed to provide maximum protection for your S23 device and keep it looking like new. It's easy to install and comes with everything you need for a perfect installation, including a microfiber cleaning cloth, dust removal sticker, alcohol pad and a installation box. Enjoy the peace of mind knowing your device is safe from nicks and scratches with the S23 Ultra Screen Protector Film.


Ez-Install Box
The auto-alignment screen protector box allows for easy installation while it can be reused multiple times, making it an environmentally friendly solution.
Dust removal film absorbs dust via static electricity, and a 3D curved hybrid glass design covers the entire display screen.
Specially Designed
Designed specifically for the Samsung Galaxy S23 Ultra, the nanohybrid screen protector offers protection from keys and other sharp objects.
Fingerprint Unlock Supported
This screen protector supports fingerprint unlocking and has a 7H nano-hybrid material hardness
HD & Privacy Provided
The HD protector adds armor without compromising clarity, while the privacy protector has a maximum privacy angle of 30° to protect your data privacy. 
What's in the box?
| | |
| --- | --- |
|  Object | QTY |
| Easy-install box | 1 |
| HD/privacy films | 2 |
| Cleaning kits | 2 |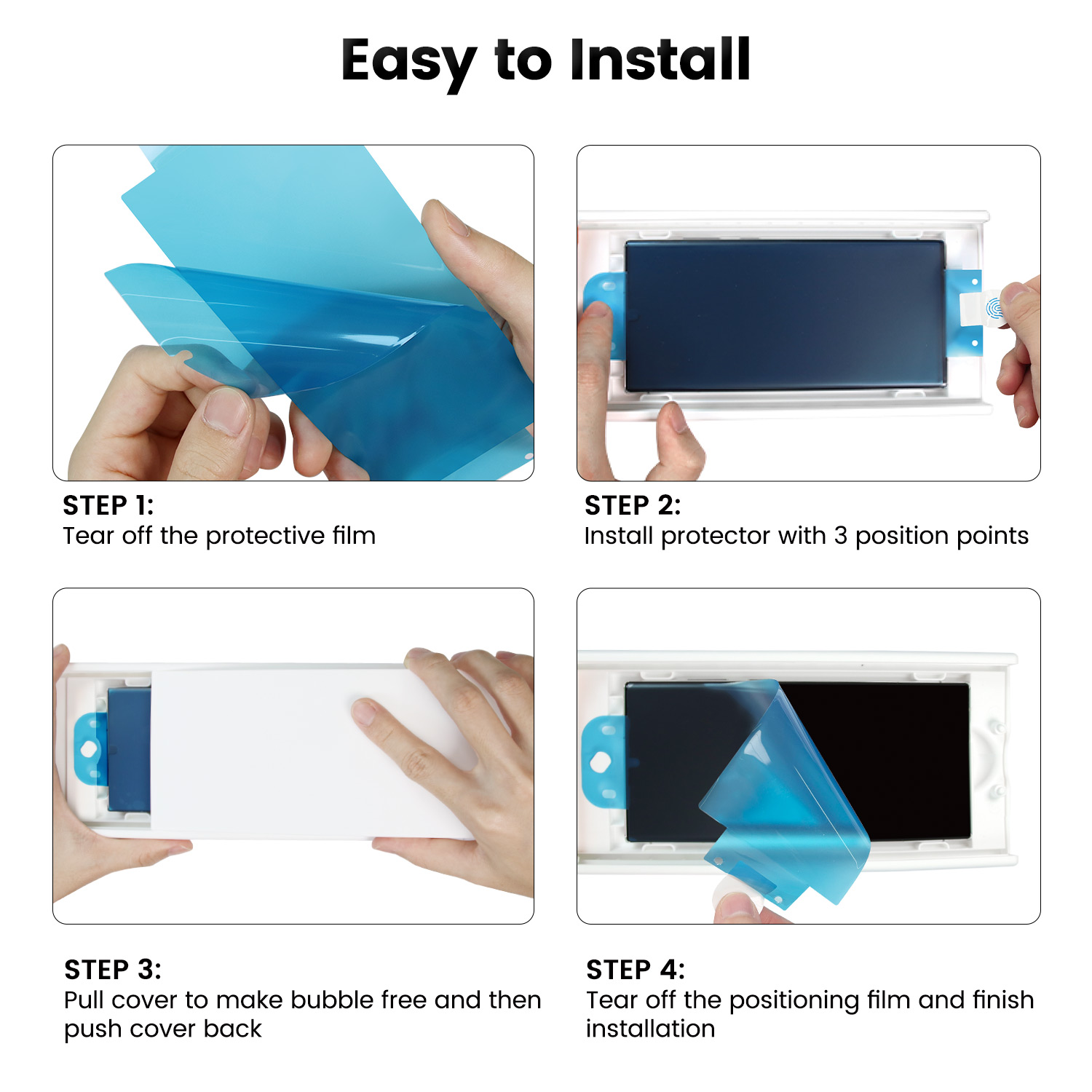 Need extra protective film?
The installation box can be reused multiple times, so please keep it after using the protective film. When it's time to replace the screen protector, you can simply purchase a new protective film. This approach is cost-effective and environmentally friendly.
Click here Galaxy S23 Ultra Protective Film